The Friendly Sons of St. Patrick of Central Iowa will again sponsor a St. Patrick's Day parade in the streets of downtown Des Moines, on Tuesday, March 17, 2015
************************************************************
We are currently accepting applications from people and organizations who wish to participate by entering a parade float, which can include most any kind of transportation vehicle(s), or participants merely walking the one mile route. The entry fee is $100 per entry for Irish Clan, Irish Family, or Irish Theme, and $250 for each political entry. An entry may include more than one vehicle, but one individual MUST attend a parade participant meeting and sign the registration form to assume responsibility for all participants included with the application.
The Friendly Sons of St. Patrick will have Parade Marshal Coordinators in charge of the parade, and we reserve the right to dismiss any entrant who does not abide by the rules communicated to all participants and agreed to by submitting the application to participate. If a parade rule is not being followed, the Parade Marshal Coordinator has the authority to stop the parade and require the offending entry to be immediately removed from the parade, with the assistance from the Des Moines Police Department if necessary.

************************************************************
There will be NO mail-in or online registrations
A designated representative MUST ATTEND ONE of the following meetings to deliver an application and payment. Meetings will be held at the Downtown Marriott in the Windows on 7th Room.
Meeting dates and times are as follows:
Tuesday February 17 7:00pm
Sunday March 1 2:00pm
Wednesday March 4 7:00pm
If payment has not been made by (or at) the last meeting, you will NOT be able to participate. NO EXCEPTIONS.
No material(s) may be thrown directly from a parade unit entry.
The candy or beads can be handed or thrown to parade watchers
along the parade route by individual walkers alongside your
parade unit.
Each application can be picked up at the parade meeting, and must be signed by an individual who takes responsibility for the parade unit and for seeing that all individuals accompanying the parade entry follow all parade rules.
Please bring your completed entry form, along with the applicable parade fee, to one of the parade meetings listed above. You MUST have a representative at one of the meetings in order to participate. NO EXCEPTIONS.

Please provide contact phone and email. You will be notified of your acceptance and your position in the parade.
Thank You for your support and cooperation in making this a safe and fun event for us all!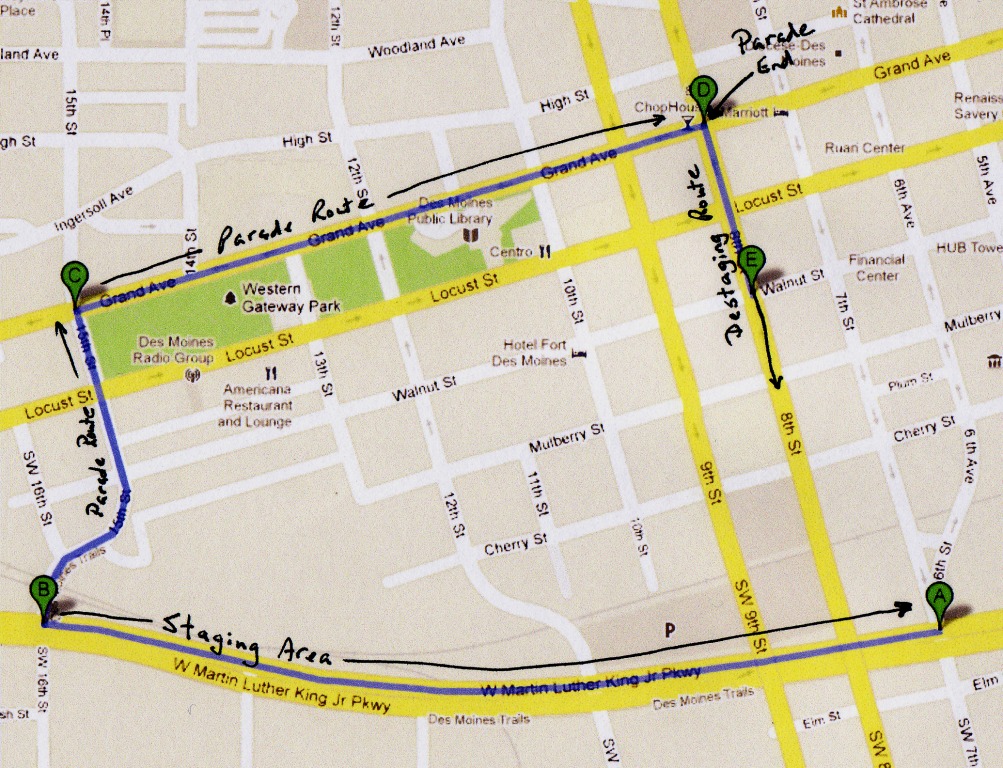 Any questions, concerns, or comments about the 2015 parade or future events, please contact:
Parade Chairman
Friendly Sons of St. Patrick
1620 Pleasant Street, Suite 241
Des Moines, IA 50311
Questions: Email parade-chairman@friendlysonsiowa.com
Click HERE for official parade rules